Girl Scouts of Northern California
Whether your girl is a dreamer, comedian, explorer, or something uniquely her own, she's welcome at Girl Scouts. We have been helping girls build their courage, confidence, and character since 1912. Girl Scouts are still meeting—following their dreams and having fun right now virtually until we can be together again in person. She will find what makes her shine with friends and mentors by her side. 
These are unprecedented times, and we know families like yours are looking for ways to bring optimism, joy, and purpose to each day during the COVID-19 pandemic. Whether or not you're familiar with us at Girl Scouts, we're here for you and your family! We offer several virtual event types to help you try out and get familiar with Girl Scouts before becoming a member. We hope you'll decide to join us!
Every Wednesday at 6:30–7:30 PM: Discover Girl Scouts for all interested girls and their families from all GSNorCal areas.
Every Wednesday at 7 PM: Girl Scouts Open House for New Families—join us to learn how Girl Scouts can support the girl in your life.
Find a virtual event for girls and families in your county, community. or school to learn more about new or existing troops in your local area!
Sonoma County Youth Art Contest – Brighter Days 9/9-9/25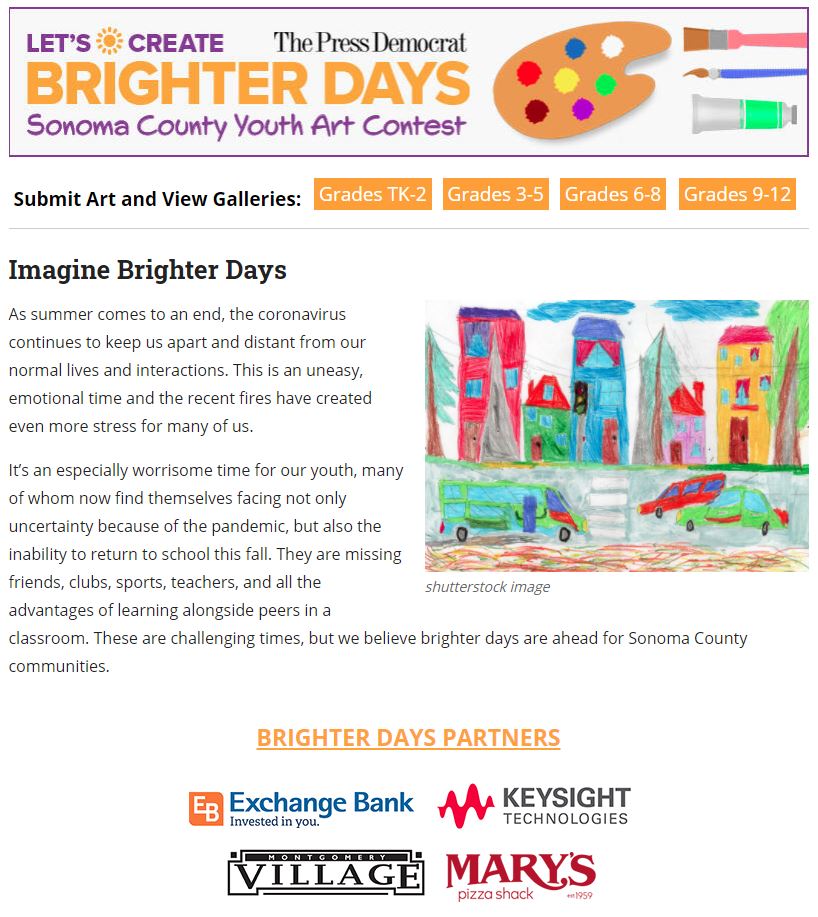 Art Contest
The Press Democrat wants to engage and uplift students from kindergarten through high school by inviting them to create and share their original artwork. Along with several partnering organizations and supportive local businesses, we are launching an art contest for Sonoma-area children and teens called, "Brighter Days" and will invite local youth to submit images of their paintings, drawings or graphic designs based around this theme.  ALL submissions will appear in an online art gallery at PressDemocrat.com so our entire community of readers can view and enjoy them.
Five Winners from Each Grade Grouping
Five winners will be selected from each of these four grade groups: TK – 2, 3-5, 6-8, and 9-12.
Each of the 20 winners will receive a $75 gift card from Mary's Pizza Shack, and a certificate of Artistic Achievement.
Winners will have their art published in a special "Brighter Days" publication on Oct 11 in The Press Democrat.
The "Brighter Days" publication will also appear in the Sonoma Index-Tribune, and the Petaluma Argus-Courier. Some honorable mention entries may appear in the "Brighter Days" publication. Winners' artwork will also be available for viewing in select merchant windows along Fourth Street in Santa Rosa.
Submission Guidelines
The minor entering must be a resident of Sonoma County
Entries must be original artwork
The art must be created using an 8.5 x 11 format
Parent or adult guardian must fill out the entry form on behalf of their participating student, for each submission
Parents may upload up to 3 submissions for each student
The artwork should be inspired by the theme, "Brighter Days"
It's up to the kids to interpret the theme and create their own vision!
Entries that do not follow the rules and guidelines, or are past deadline, will not be eligible.
The contest will begin on Wednesday September 9 and the deadline for entries is 5:00 pm PST on Friday, September 25, 2020.
Brighter Days Contest Rules: https://markwestcharter.org/wp-content/uploads/2020/09/rules090320.pdf